Frequently Asked Questions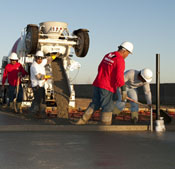 Question:

Tell me about concrete?
Answer:

The word concrete comes from the Latin word "concretus" (meaning compact or condensed), the perfect passive participle of "concresco", from "com-" (together) and "cresco" (to grow).
Concrete is a composite construction material, composed of cement (commonly Portland cement) and other cementitious materials such as fly ash and slag cement, aggregate (generally a coarse aggregate made of gravels or crushed rocks such as limestone, or granite, plus a fine aggregate such as sand), water, and chemical admixtures.
Concrete is used more than any other man-made material in the world. As of 2006, about 7.5 cubic kilometres of concrete are made each year—more than one cubic metre for every person on Earth.
Concrete has been used for construction in various ancient civilizations. An analysis of ancient Egyptian pyramids has shown that concrete may have been employed in their construction.
---
Question:

What is ABC and what is it for?
Answer:

ABC stands for aggregate base course. It is used as a base for the concrete layer and is made up of crushed rock that is compacted to create a solid foundation for the cement.
---
Question:

Can you pour concrete in the rain?
Answer:

No. Concrete must be poured when it is dry to prevent damage and proper curing.
---
Question:

Is there a difference in the concrete mix in the summer and winter times?
Answer:

Yes. In the summer there is an additive that acutally slows the drying process and helps the concrete to cure properly.
---
Question:

Is there anything I can do to prevent concrete cracking?
Answer:

Generally your concrete subcontractor will follow a procedure to ensure the concrete cures properly and prevents most cracking. Your contractor may give you instructions to periodically water you concrete to help in this process.
---