Arizona Residential Concrete Services
If you need concrete Whitton Concrete can tackle all of your residential needs. From slabs and drives to A/C pads and porches, Whitton Concrete gives you professional, fast service free from the problems associated with many concrete contractors.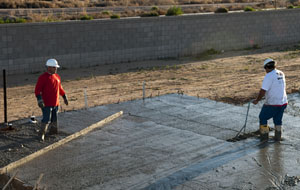 Depend on Whitton Concrete if you are interested in replacing that aging, cracked driveway or if you want to add on that new room to your home.
Maybe you are looking for demolition of existing concrete so you can install a new modern finish on your custom drive or walkway. We can also repair your cracked, ponding or heaving porch or garage floors. Or maybe you have a slab leak; Whitton Concrete along with Whitton Plumbing can help you get this seeming devastating problem back to a minor inconvenience.
POST TENSION SLABS
You may not know it but if you own a modern home you probably have a post-tension slab. A post-tension slab is a slab of concrete without traditional stem type footings instead there is a series of cables or tendons that run the length of the slab.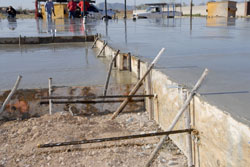 The concrete is allowed to cure to about 75% of the way, at which point post-tensioning occurs. Each of the tendons in the post-tension slab is pulled tight, using a hydraulic jack. The tensing of the cables occurs after the concrete has mostly cured, hence the term "post-tension." The tendons are usually pulled to a tension of 25,000 pounds per square inch. Once the cables have reached the designated tension, they are anchored in the concrete, and the slab is allowed to fully cure.
Many modern homes are built on a post-tension slab, which serves as an excellent foundation. This method of pre-stressing concrete is especially useful in areas where the soil expands and contracts relative to weather conditions.
Overall, a post-tension slab is stronger with less concrete and is less likely to shift and cause flooring problems in your home.
STEM FOOTING SLABS
A traditional home slab uses the stem footing method. This method consists of a footing trench around the perimeter of the slab and rebar that is used to prevent movement during soil shifts. There is also a stem or vertical wall around the perimeter poured into the footing trench to act as a support for the supporting the perimeter walls and roof. This method of slab while tried and true uses more concrete to maintain the needed strength and is more susceptible to shifts in your flooring where cracks appear.
EPOXY COATING
An epoxy coat can be used to repair damaged concrete or you can also use it to beautify your garage floors and make them easier to clean or prevent oil stains.
There are many different colors and types of coatings that can be used so be sure to consult with the experts at Whitton Concrete before you consider coating your concrete.
COLORING & CUSTOM FINISHES
Concrete doesn't have to be a boring grey hunk of rock anymore. With modern technology you can add color and texture to your new driveway or driveway ribbons you want to add. Salt finishes, exposed aggregate, scoring and diamond cuts are just some of your options.
Whitton Concrete is here to meet all your residential needs, contact us today for a quote or more information, contact Whitton.
Valley Wide: (480) 291-1113
Tucson: (520) 505-3499